En dépit du tarif pour le moins… prohibitif de mon vol, celui-ci n'a pas échappé à la longue lignée de vols pourris qui a commencé avec l'avion manqué pour la Grèce en 2015. Ici, un changement d'horaire de la part de la compagnie combiné avec un retard prévisible à l'aéroport de Marseille, a bien failli nous coûter notre correspondance parisienne, et cela s'est joué à tellement un cheveu, que la moitié des passagers de notre premier avion s'est vue reprogrammée sur le vol suivant, tandis que l'autre moitié dont je faisais partie a pu tout de même embarquer sur l'avion « qui ne devait souffrir aucun retard », au hasard de l'alphabet et des choix divergeants du personnel naviguant en charge de la situation. C'est ainsi que notre groupe a justement été coupé en deux.
Despite the ludicrous price of my flight, it still was as much of a crappy experience as all those before since the missed one from Greece 2015. The company made a change to the schedule which didn't agree much with Marseille airport notorious delays. It was so close to a complete disaster that half of the passengers that were to take the same connecting flight didn't make it. It appears that the crew took opposite decisions after they alphabetically split us up. One half, of which I was, could board the plane that we had been told "couldn't suffer any delay", while the other were booked on the next plane. Our own party was separated actually.
Arrivés avec le lever du jour, une fois tous réunis et ayant enfin retrouvé la trace de tous nos bagages, nous avons pris la voiture pour rejoindre la commune du Tampon (ça te fait rire, hein) à l'autre bout de l'île. Si j'ai pris quelques photos de nos premiers jours, premières plages, premier bord de mer, un mois m'aura laissé largement le temps de faire des clichés plus beaux encor, de sorte que je vais sauter directement au 4 octobre, non sans le regret de n'avoir pas eu un appareil photo chargé lorsque les ex-réunionnais avec lesquels je voyageais ont eu la fantaisie de vouloir retrouver leur maison de l'époque… abandonnée depuis leur départ. Très urbex.
We arrived with the rising sun and waited until we were finally all reunited, luggages included, to get in the cars and drive to the Tampon, a town the other side of the island. While I did snap pictures on the first days, first beaches, first pier, a month stay means I can be picky as to which pictures I should display here so let's fast-forward to october 4th, although not without a pang of regret as to having a discharged Nikon the day before when visiting the former house of my party, which had been abandoned after they left. Very urbex.
Cap Ut
Le 4 octobre, manque de bol, j'étais malade. Je m'étais levée la veille avec une voix rauque de bonhomme (appelez-moi Gérard), mais ce jour, et ce fut le seul, de la fièvre et de la fatigue tentèrent de m'empêcher de profiter de mon canard à la vanille et de crapahuter dans la lave avec tout mon attirail photographique. C'est mal me connaître.
On the 4th of october, too bad, I was ill. I woke up the day before with the harsh voice of a dude (call me Gérard, bro), but the new dawn apparently brought up fever and fatigue. Would it deter me from enjoying my vanilla duck and scouring the lava field with all my photographic gear? Uh, NO.
Première tentative d'excursion au volcan
Le 6 octobre, première approche. Mais de ce côté de l'hémisphère, nous étions alors en plein printemps : nous n'avons donc pas échappé longtemps aux giboulées de mars d'octobre. / On the 6th of october, we made our first approach to the volcano. But on this side of the planet, it was full spring: there was no escaping october march rain showers much longer.
Saint Paul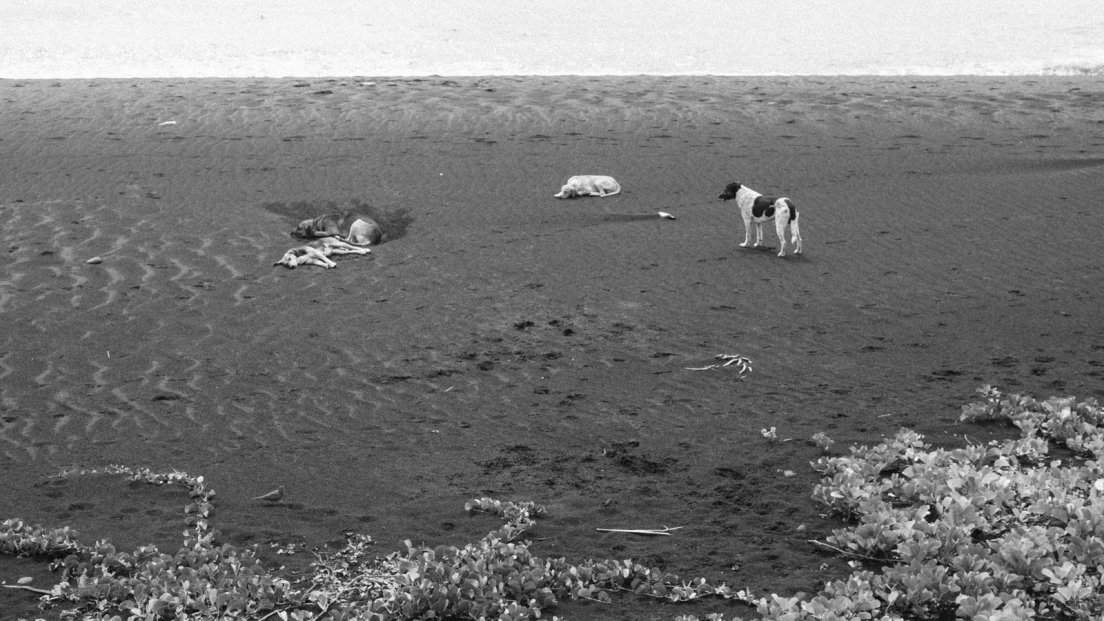 nowplaying : Stranger Things OST (I don't usually listen to OST but then again, 80s synths you know)