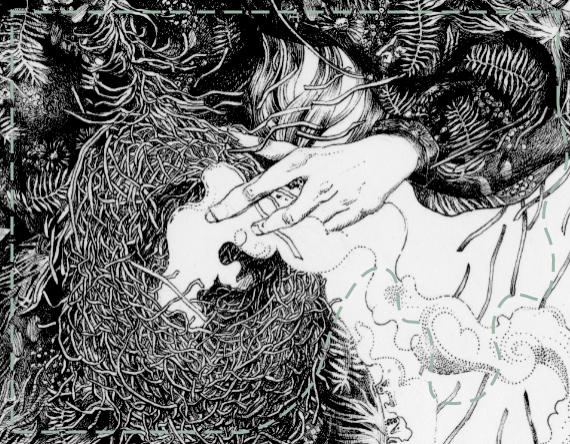 La première s'intitule La Femme de Paille, j'y traite enfin le sujet du changeling. Le personnage est encore en développement. Je me suis inspirée des nids de tisserins que j'ai pu admirer à la Réunion, surtout après avoir pu en ramasser deux tombés par terre (des rejets, vraisemblablement, et non des accidents : il semblerait que le mâle fasse plusieurs propositions à sa douce). Ce dessin a été bercé de plein de Poldark, il a aussi été avancé pendant mon séjour en Île-de-France de Noël donc à la campagne, froide et humide. Je l'ai commencé en portant la robe que j'y ai représenté : cela m'intéressait que ce sujet folklorique soit marqué malgré tout par de la création contemporaine.
So the first one is entitled The Hay Woman (french : La Femme de Paille). The character is still in the works. I took inspiration from the village weaver nests I got to see at the Reunion island this fall, especially those lying under the colony's tree. I did indeed pick two for myself. These are rejects, mind, not the result of a terrible accident: the male crafts a few for the female to choose from. Many Poldark (and period dramas) were watched during its completion, part of which was achieved in the cold and wet countryside of Île-de-France instead than my usual location, fitting more the mood of the subject. The day I started it I was wearing the very dress I depicted: while the folkloric subject is ages old which one would tend to set in the Past, I felt it could just as well be linked with now.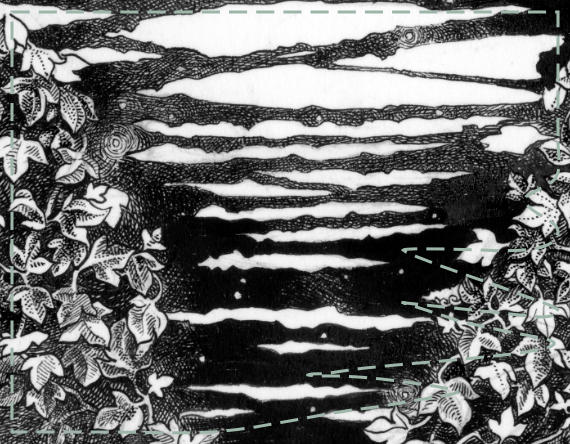 La seconde, ne vous affolez pas, est un fanart d'un personnage masculin[1]. Je sais. Je sais. Il est dans la continuité de la pseudo-critique dithyrambique que j'ai rédigé à propos du livre Sous le Lierre de Léa Silhol. En changeant l'expression du personnage à un moment je lui ai accidentellement donné de faux airs de Hugh Grant mais ce n'était pas voulu. J'avais fait tant d'efforts pour éviter l'Angel Clare roux d'Eddie Redmayne (arraché ces dernières années de mon favorymat par quelques rôles titres et surtout les dernières frasques dans l'univers d'Harry par terre), en allant regarder chez James Ivory qu'apparemment en voulant me rapprocher de l'un des persos du film Maurice, c'est un autre du même casting qui est ressorti. Bizarre.
Je ne sais pas ce que Fern aura pensé du livre qu'il tient entre les mains (que je n'ai pas lu non plus, et pourtant, ce n'est pas faute de le voir perpétuellement référencé par Philip Pullman), mais je me suis dit que depuis qu'il fréquente Ivy, le titre l'aura intrigué :) Je ne suis pas totalement satisfaite de ce portrait mais rien de grave non plus. N'empêche que les plumes ont été méchantes et pleines de caprice, et qu'à cause d'elles je n'ai pas pu styliser ma technique, devant compenser les passages moches avec un réalisme d'une longueur qui ne faisait pas partie de mes objectifs. Pas merci.
The next one, don't fret, is a fanart of a male character[1]. I know. I know. Same inspo as in a very long blog post I wrote recently (in french, considering the books I talk about are in this tongue only). At some point I changed the character expression which immediatly made him look a lot more like Hugh Grant than I would have liked. The thing is, I refrained hard from borrowing looks from former favorymous actor Eddie Redmayne (meaning he's no longer a confidental crush after a few recent main roles not to mention the Potter rabbit hole of exposure). Anyway a redhead wouldn't do, so without further ado I turned to James Ivory movies, especially Maurice. Except I had meant Alec, not Clive. Weird how these things happen.
Not sure what Fern thinks of the book he is holding (which I haven't read myself despite knowing it's a Philip Pullman's favorite), but I thought the title would have intrigued him after his encounter with lead character Ivy. I'm not entirely satisfied with this portrait, a feeling which actually isn't that common with me as I'm usually open to whatever direction my art chooses to take, but nothing serious either. I AM however utterly dissatisfied with my quills since they made things much harder and much longer by misbehaving in the first place. They forced me into much more realism than I intended to correct defects that really cannot make it into a stylized piece. Thank you for nothing :(.
Ces pièces sont encore exposées une semaine à intuit.lab ! C'est encore le meilleur moyen d'en apprécier les détails (bien que mes images ne soient pas radines à 1600px de large, si vous savez où cliquer). / Both are part of my current exhibit at intuit.lab! For such small and detailed pieces have to be seen IRL I guess, even if my default file dimension is rather large at 1600px if you access it through right-click.
J'aurais voulu développer plus sur mon mois de janvier mais je dois partir au plus vite pour continuer la réorganisation de mon bureau à l'atelier. J'espère que personne n'a désiré accéder aux classeurs dans l'armoire !
If I had more time on my hands I would have had things to say about the past month but as it is I really have to go back to my atelier because I'm rearranging the room and left it in a complete mess yesterday. Hope nobody has tried to access the files in the cupboards!
PS : Attendez vous à un nouveau billet canadien bientôt : les photos sont prêtes et déjà mises en forme, plus qu'à entrecouper de paragraphes ça et là. Mais enfin, quand cesserez-vous de tomber sur mes mises à jour par hasard ?
Notes
[1] Et il n'est pas sur le point de mourir : nette amélioration. / And he is not even dying, I promise. Improvement.